September 22nd, 2009
An innovative at-source extraction system, Wheelsmart (www.junair-spraybooths.co.uk) allows the alloy wheel refinishing process to be carried out to the highest standard in workshops and other suitable areas without the need for a conventional spraybooth. This frees-up the booth for bigger jobs, maximising productivity and profit.
Wheelsmart is fully compliant with the relevant Health & Safety directives, Wheelsmart two-stage filtration system reduces particulate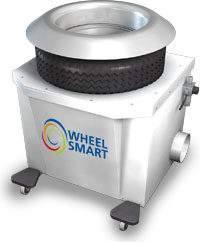 emissions well below the 10mg/m³ limit specified in the Environmental Protection Act.
The system features a purpose-built Wheelsmart station incorporating an easy-to-use turntable, two special hoods for wheel sizes from 14" to 21" and a 10 metre hose for connection to the Smartair extraction tower that vents external to the building.
Benefits at-a-glance
Eliminates the need to use a spraybooth
Frees-up the spraybooth for higher value jobs
Occupies minimal floor space
Quick and easy to install – simple to use
Highly manoeuvrable
Captures all overspray fumes and particulates
Complies with Environmental legislation
Complies with Health & Safety legislation
Designed to work with all 2007 compliant coatings