October 6th, 2009
It's about time that professional refinishers around the world were offered a special edition GTi Pro and this time, the theme is extreme watersports and in particular surfing. You don't have to be a surfer of course, you may not listen to the Beach Boys or drive a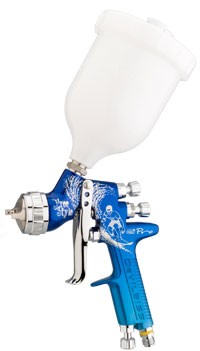 Veedub camper van, but it is essential you look cool, so with every FreeStyle gun you get a superb pair of slimline aviator style shades!
It's radical!
The FreeStyle limited edition GTi Pro spray gun combines the FreeStyle logo and unique graphics depicting a surfer in the "pipe" together with a durable and visually stunning two tone blue anodised finish…a first for the professional refinisher's favourite spray gun.
Awesome performance!
The Pro FreeStyle is built to the same exacting standards as every DeVilbiss gun featuring the superb ergonomically designed gun body and revolutionary "no-kick" air valve. Top quality performance with base or clears is guaranteed and you can specify your GTi Pro FreeStyle with either the H1 HVLP or T1 / T2 TransTech air caps plus #12 or #13 fluid nozzles. This is the gun to be seen with this summer.
The GTi Pro FreeStyle is supplied as a complete refinishers kit complete with the spray gun, gravity cup and paint filter, four coloured ID snap rings, the Torx/screwdriver, combination spanner and cleaning brush.